Algorithmic trading software automates and improves your trading capabilities if you are into trading financial instruments such as securities, currency, equities, and other digital assets. As a broker or digital asset trader, algorithmic trading software is a must-have.
However, some are subscription-based which can be expensive for a startup, a solo broker, or a trader. As such, I have compiled the list of the seven (7) best free algorithmic trading software.
7 Best Free Algorithmic Trading Software
---
With TradeStation, you enjoy 100% commission-free equities trading with its superb trading technology. It gives you access to over 2,000 ETFs and trading tools you need to explore your ideas, all for free.
Also, TradeStation provides you with the tools you need to leverage options, including specific education opportunities.
With TradeStation, you can trade futures contracts on gold, bonds, crude oil, indices, Euros, and other contacts. If you want to go deeper into future opinion trading, you will be required to upgrade to the FuturesPlus platform, which contains special tools designed for such functions.
TradeStation allows you to diversify your investments, where you get to choose among the 2,000 Mutual Funds.
TradeStation is one of the best free algorithmic trading software that offers you sophisticated trading technology, trading education, online brokerage services, market insights, and resources for new and experienced traders.
Are you looking for free algorithmic trading software to take your portfolio to the Next Level? Then Coinigy is a good pick. It is the best free algorithmic trading software for compressive crypto portfolio management.
Coinigy comes with an ultimate cryptocurrency portfolio management suite. That helps to effectively manage your wallets and exchanges automatically across all your devices. With Coinigy, you have access to over 45 exchanges, and its real-time access enables you to get access to the Arbitrage Matric, Portfolio management tools, pricing data, and full-featured spot trading tools.
An interesting aspect of this software is that they offer trade alerts, SMS & email price before the game to give you a hedge.
With Coinigy, you can seamlessly monitor all your cryptocurrency across several exchanges and wallets at one point. Coinigy does not charge you for trading on the platform.
You are only charged based on the subscription you sign up for after the expiration of your trial period.
SpeedBot is your best pick if you are looking for algorithmic software that enables systematic and automated trading by bots.
SpeedBot was established in 2019 by a college group of 4 Entrepreneurs, guided by a successful and serial Entrepreneur from India. SpeedBot is designed to focus on algorithmic trading.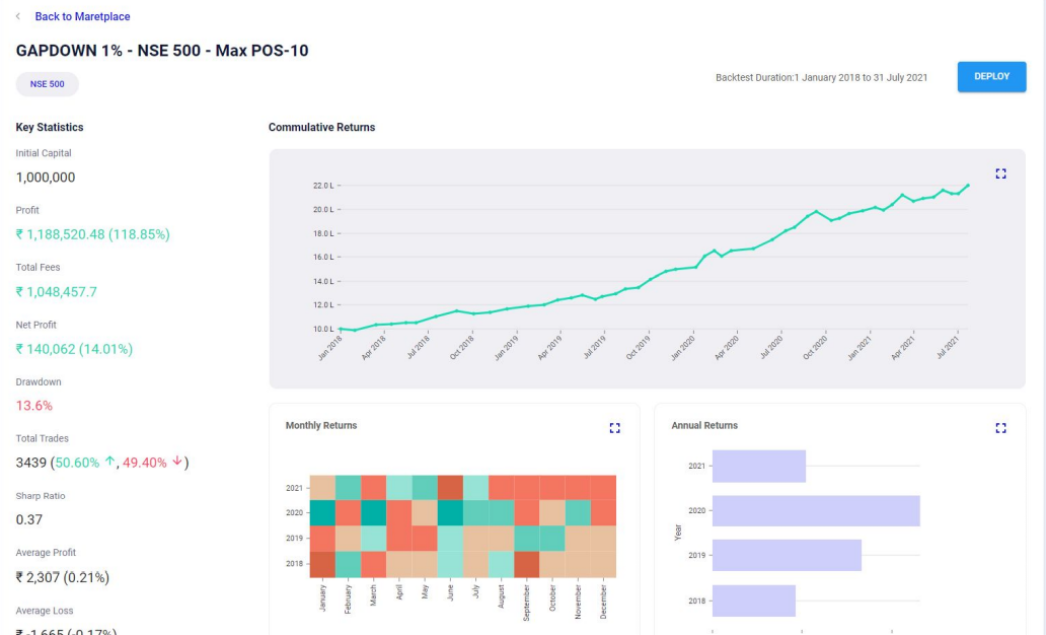 If you are a trader that loves to invest but does not have the time, tools, or courage to beat the market's volatility, then SpeedBot is a great help. It has a simple interface that allows you to decide what, when, and how much you want to trade and access to follow other successful algorithmic traders, known as "Robo-advisors."
If you are looking for free algorithmic trading software with lots of trading bots to automate your cryptocurrency trading activities, then Pionex is the best software to get.
Pionex has 16 free trading bots like Grid Trading Bot that allows you to automate and securely trade currencies and altcoins.
Some of the available trading bots include; Grid Trading Bot, Smart Trade bot, DCA bot, Infinity Grid Bot, Spot-Futures Arbitrage Bot, and so many more.
An advantage of Pionex is that its aggregates the liquidity from Binance and Huobi near the ticker price. This is because Pionex is one of the biggest brokers of Binance and market makers of Huobi in the world. Some of the advantages of choosing this platform are:
Pionex is duly licensed and has acquired MSB (Money Services Business) license from FinCEN.
Your account is secured using an email verification system, a personal passcode, and a withdrawal code. This helps to reduce cases of theft of digital assets.
HassOnline is one of the best free algorithmic trading software known for its super-fast developing, back-testing, and deploying high-frequency crypto trade bots across multiple cryptocurrency exchanges in minutes.  It is super-fast.
With HassOnline, you can automate you're trading strategies and get back to your day-to-day life. It helps you to trade while you sleep.
Also, HaasOnline has developed HaasScript to be the world's most advanced crypto scripting language. HaasScript enables you to carry out many functions. Such as:
Creating complex automated trading algorithms
Creating technical indicators
Generating and interpreting signals
Also, you can leverage the back-testing engines to reduce your exposure to unnecessary risks. So it offers you rapid speed and secure trading infrastructure. It allows you to enjoy the ease of cloud management.
You can upgrade to HaasOnline's flagship product without worrying about the technical complexity of managing your profiles.
Trality is one of the best free algorithmic trading platforms if you want to create and invest via automated trading bots.
80% of private traders have lost their money because of a lack of automation and emotional bias. As such, Trality is designed to allow you to trade and manage your assets via automated bots.
The best part here is that the trading bots are built to suit all experience levels. You mustn't be a professional to know how to use trading bits here in Trality. They are trading bits designed for you as a novice to manage your portfolio.
Trality offers the most advanced tools for bot creation needed on private and participates in revenue generated from their follower base. Also, the state-of-the-art Python Code Editor and drag and drop (easily accessible) provide Rule Builder for non-coders.
So if you want to profit from algorithmic trading without giving up your day job, then Trality is a good pick.
TradingView is innovative software developed by a group of developers and traders who are experienced in building trading software.
With TradingView, you can take advantage of the latest advancements in browser languages and cloud computing.
Also, TradingView is a social community for traders to interact, learn, share ideas and work together. It helps traders to have access to ways to share live charts instantly and technical analysis ideas. This software is best for traders who prioritize community and collaboration.
What to Look Out For When Choosing the Best Free Algorithm Trading Software
---
1. Ease of Use
When looking for best free algorithm trading software, one thing you should look out for is the complexity of the software.
Algorithmic trading platforms vary in complexity. Some require programming experience, while others are easier and can be operated without knowing a programming language.
Some are web-based, and mobile-based, while others are compatible with both. However, your level of experience and the kind of assets you want to trade will determine the complexity of the software you will go for.
2. Number of Strategies Allowed
Some automated trading software is limited in terms of the number of short or long strategies allowed in a particular account. Sometimes, you may be required to add extra accounts to implement additional strategies. Although algorithmic trading software is free, not all strategies are usually free. So check for the free strategies, and those that are not.
3. Scope of Market
Some free algorithmic trading software grants you access to trade only specific markets. Some are basically only cryptocurrency, while others are securities and others allow both.
Before choosing an algorithmic trading platform, check out the scope of the market. Did it cover the digital asset you want to trade on? Does the software market scope support your plan for diversification?
4. Latency
One of the most important factors to consider when choosing free algorithmic trading is latency. Latency refers to the time delay introduced in the movement of data points from one application to the other.
In today's trading world, a delay between the movements of data points from one application to the other could mar or break your algorithmic trading strategy. So it is advised that you for the software that helps keep your latency to the lowest possible level because a time delay can be dangerous due to the high volatility of the market.
5. Availability of Trade Management Tools
Good algorithmic trading software should provide adequate tools to simplify and automate the selection, construction, implementation, and maintenance of your trading portfolios and strategies.
The right trade tools – analysis, reporting, and trade management tools, can enable you to pull out big time from the market. Also, it can help you leverage investment opportunities to beat the market's volatility and mitigate risks and losses.
Conclusion
The free algorithmic software is a necessity for a sole trader or a novice who can't go for the premium-based algorithmic- trading software. However, not all algo-trading software offers automation and trading bots assistance. So ensure you go through them carefully before selecting one. Use the above five stated factors to choose the best algorithmic trading software.